Oil prices jump more than 3% on tanker attacks in the Gulf of Oman
Oil prices jumped as much as 4% on Thursday following attacks on tanker ships off the coast of Iran, renewing fears of conflict in the Middle East following a series of strikes last month.
The vessels sustained significant fire damage and their crews have been evacuated, according to multiple shipping agents and chartering sources. The attacks occurred in the Gulf of Oman, near the Strait of Hormuz, the world's busiest sea lane for oil shipments.
It was not immediately clear who was responsible for the attacks, but the incident occurred against the backdrop of heightened tension within the Middle East and between the U.S. and Iran. The Iranian leadership in Tehran has repeatedly threatened to block traffic in the Strait of Hormuz in retaliation for U.S. sanctions on the Islamic Republic.
Brent crude, the international benchmark for oil prices, was up $2.02, or 3.4%, at $61.99 per barrel around 9 a.m. ET (1300 GMT). Brent earlier rose more than 4% to $62.64.
U.S. West Texas Intermediate crude rose $1.66, or 3.3%, to $52.80, after topping out at $53.45 earlier in the session.
Oil prices earlier fell toward five-month lows on Thursday, continuing a steep slide fueled by concerns that the U.S.-China trade war will slow global growth and dent fuel demand. On Wednesday, crude futures fell 4% on the ongoing demand fears and another big jump in U.S. crude stockpiles.
OPEC on Thursday cut its forecast for oil demand growth in 2019 as the 14-nation producer group pumped at its lowest level in five years.
But the attacks in the Gulf of Oman renewed geopolitical concerns that have largely abated in recent weeks.
"This is the kind of nightmare headline that you don't necessarily want to wake up to," John Kilduff, founding partner at energy hedge fund Again Capital, told CNBC's "Squawk Box."
Tehran has been hosting Japanese Prime Minister Shinzo Abe for a two-day visit aimed at easing tensions between Iran and the U.S. Iranian Foreign Minister Javad Zarif addressed Thursday's incident on Twitter, writing, "Suspicious doesn't begin to describe what likely transpired this morning."
Javad Zarif✔@JZarifReported attacks on Japan-related tankers occurred while PM @AbeShinzo was meeting with Ayatollah @khamenei_ir for extensive and friendly talks. Suspicious doesn't begin to describe what likely transpired this morning. Iran's proposed Regional Dialogue Forum is imperative. 1,3184:54 AM - Jun 13, 2019Twitter Ads info and privacy
858 people are talking about this
A spokesman for the US Navy's Fifth Fleet in Bahrain told the Associated Press that his command was "aware" of the incident and was seeking further details. U.S. Naval ships are in the area and are "rendering assistance" after forces in the region received two separate distress calls, the Fifth Fleet said.
The Kokuka Courageous, a chemical tanker that loaded in Saudi Arabia and was en route to Singapore, caught fire at the same time as the Front Altair just before 6 a.m. local time.
A representative for BSM Ship Management, the Kokuka's Singapore-based manager, said 21 crew had abandoned ship due to the "security incident", which damaged the ship's starboard hull. They were rapidly rescued from a lifeboat by a nearby vessel, according to the company's spokesman.
"The Kokuka Courageous remains in the area and is not in any danger of sinking. The cargo of methanol is intact," the spokesman said in a statement.
WATCH NOWVIDEO05:16Here's the possible fallout from the Gulf of Oman tanker explosions
The ship is roughly 14 nautical miles off the coast of Iran and 70 nautical miles from the coast of the United Arab Emirates' Fujairah, which was the site of alleged sabotage attacks on four tankers in mid-May that U.S. authorities have blamed on Iran. Iran denies any involvement.
Fujeirah Port operations are normal, according to a Platts Global Alert citing shipping sources.
The Front Altair, chartered by Taiwan's state-owned CPC Corp, was scheduled to carry a cargo of naptha, a petrochemical feedstock, from the Persian Gulf to Japan, Platts said. Its owner, Norwegian company Frontline, could not be immediately reached for comment.
The Front Altair and Kokuka Courageous were bearing Marshall Islands and Panama flags, respectively. The Kokuka is owned by Japanese company Kokuka Sangyo Ltd.
Kokuka Sangyo President Yutaka Katada told reporters that the Kokuka had been hit twice in three hours before the entire crew evacuated. The company first received reports of the attack around 0400 GMT, he told reporters.
The tankers Front Altair and Kokuka Courageous movements are shown in this still image taken from an animation obtained June 13, 2019 from social media.
Marin Traffic via Reuters
United Kingdom Maritime Trade Operations, a division of the U.K. Royal Navy, said it is currently investigating the incident and has urged "extreme caution" amid mounting tensions between Iran and the U.S.
In an area responsible for the shipment of one-third of the world's seaborne oil, fears are rife that a miscalculation or further provocation could lead to all-out conflict. Still, both Iran and the U.S. insist that they do not want war or escalation.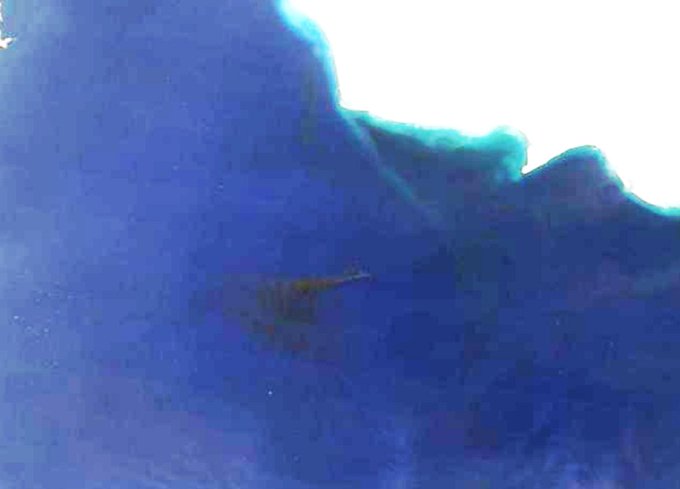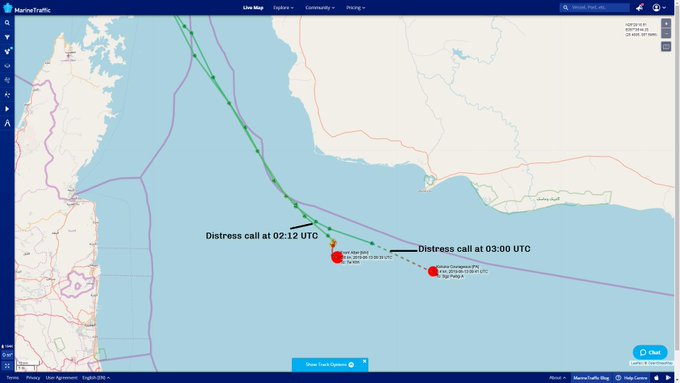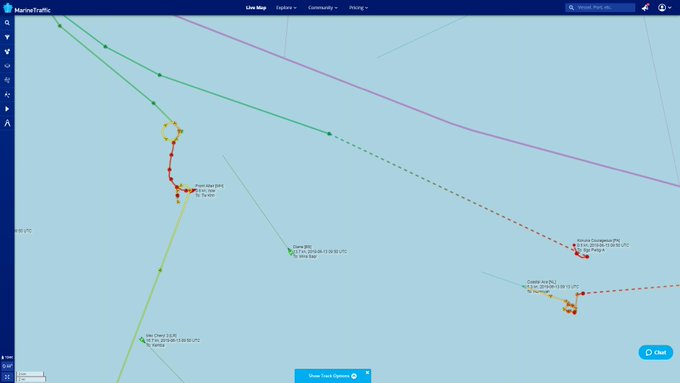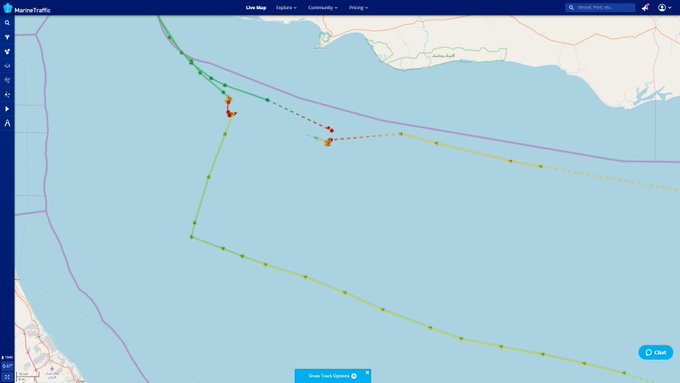 TankerTrackers.com

@TankerTrackersHere is the first @NASA satellite image taken this morning of (what seems to be based on AIS pos) the #FrontAltair tanker. We had to enhance the original. We noted the distress call times as reported by @katiemcque. A couple of tugboats in the area have diverted to assist. #OOTT 1344:55 AM - Jun 13, 2019
141 people are talking about thisTwitter Ads info and privacy
The fires took place against the backdrop of a brewing standoff between the U.S. and Iran one year after President Donald Trump withdrew from the 2015 Iran nuclear deal and reimposed heavy sanctions on the country. The deal, signed with international powers under the Obama administration, which was supposed to see financial relief in exchange for limits to its nuclear program.
More than a million barrels of oil per day have been wiped off the market as Washington's sanctions endeavor to bring the exports of OPEC's third-largest producer to zero. This has contributed to the crippling of Iran's economy, which the U.S. administration says will continue unless Iran "acts like a normal country" and ceases its support of terrorist proxies in the region and ballistic missile testing.
Iran has responded to the sanctions by threatening to ditch its obligations under the nuclear deal — which had promised economic relief in exchange for limits to its nuclear development — and return to higher levels of uranium enrichment.